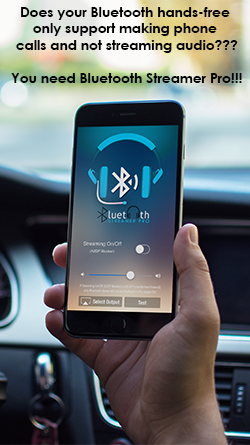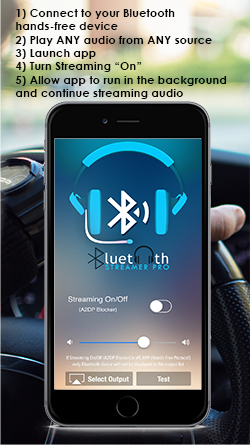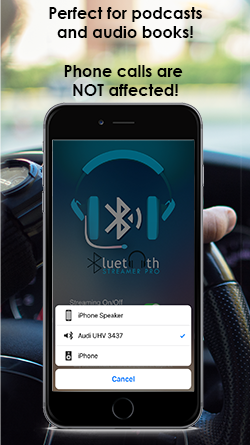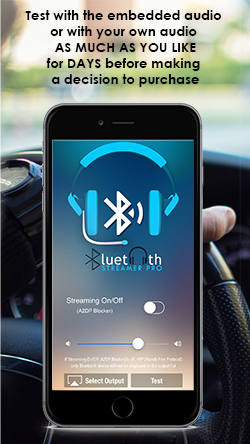 Does your vehicle have Bluetooth for making phone calls (hands-free), but it won't let you stream your music and audio files??? Mine does, and I searched high and low for a solution. The best option I found was to buy an expensive piece of hardware to perform the A2DP Bluetooth profile my car stereo was missing. That hardware finally allowed me to stream the audio and feed it into the auxiliary port. That is a great option if you want to spend $100+ on the hardware, but I thought there had to be a better way… If that doesn't sound appealing to you, there is finally an affordable option…the Bluetooth Streamer Pro app!!! This app makes the car stereo (or any device that supports Bluetooth Hands Free Protocol, HFP) think it is on a phone call and stream the music/audio that way!!!
Works especially well for podcasts and audio books such as Audible!!!
Download the app for free. Then stream as much audio from as many different sources and to as many different targets as you like to test it for 3 days. After the 3 days, we ask that you purchase the app to continue to experience audio streaming bliss forever for less than the price of a latte at your favorite coffee shop 😉
IMPORTANT NOTE: The audio is streamed to the car stereo (or other HFP device) through a protocol normally used for voice (phone calls). Therefore, the audio frequency range output will not be the same as using A2DP protocol. This is a limitation of the hardware/protocol and NOT the app. The only way to change this is to buy different (and expensive!) hardware. Please test and make sure you are satisfied before you purchase. We want you to love it, and we are sure you will!!!
Watch a video demonstration below: